A World Class Omnichannel Home Décor Company.
Designs Direct Creative Group is a full-service, world class home decor company providing retailers of all sizes with the complete omnichannel home decor solution since 2002.
Learn More
Contact Us
What Can We Create For You Today?
Our in-house team of artists and designers work in a collaborative environment to create and manufacturer original artwork for gift and home decor products. We do this through our container direct, licensing and eCommerce drop ship services as well as our ArtNow wholesale division.
For retailers who can order quantities of an entire container or truckload, we design and manufacture original products from concept to completion. As your home decor vendor, we oversee the logistics and processes to guarantee quality control in all manufacturing facilities.
For retailers looking to expand their omnichannel retail offerings while eliminating inventory risk, we offer drop ship services for a wide assortment of product lines made on demand in the United States.
For customers who have their own products, but need artwork, we have a growing library of designs available for licensing on your products.
Your Creative & Strategic Partner
Imagination and whimsy are a must in creating beautiful designs. However, there's more to the picture to make that happen.
It takes a collaborative team that monitors design trends, create the looks consumers want, transform the designs into a perfect combination of cross-product possibilities, digitize it, deliver it, and create merchandising strategies that will help generate faster turns on your floors. We're Designs Direct Creative Group, and that's just what we do. Since 2001, we've produced the highest quality designs and products for the home decor industry. We are the complete home decor retail solution.
As a world class home decor vendor, we create the most relevant retail products for our partners and offer a variety of services to complement our products. We love helping our partners navigate the ever-changing retail environment and coming up with creative solutions to everyday business problems. Check out some of the services we offer highlighted below. Custom Marketing Solutions
Our design, merchandising, and copywriting team work together to create unique content that matches your brand's tone and voice for your retail needs. Curated Content Collection
We maintain over 100,000 images and customizable art catered to specific customers in the commercial market. Get a taste for our imagery by visiting our online catalog, ATLAS. Personalized Products
With our advanced technology, your customers can add text or photos to their favorite online products for the ultimate customized experience. Products from Concept to Completion
We work directly with each production facility in the U.S. and China to ensure well-designed, high quality products reach your shelves on time. Find out more about our products here. Specialized Shipping Solutions
We ship products by the container, project, or piece from China to any port in the U.S., including New York and Los Angeles. Learn more about our shipping programs by visiting the Direct Import page. Strategic Sales Consultations
We offer program analysis, trendspotting, trend forecasting and licensing options for each customer. Check out our blog to see our analysis of the latest trends. Superb SEO Strategy
We provide SEO strategy consultations to make your eCommerce products more competitive. Your Security Blanket
Members of our Product Quality & Safety team hold certificates in consumer product safety management to fulfill our robust product quality and safety program requirements. Find out more by visiting our Direct Import page.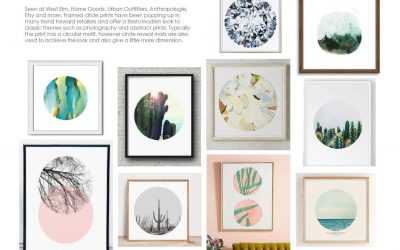 Seen at West Elm, Home Goods, Urban Outfitters, Anthropologie, Etsy and more. Framed circle prints have been popping up in many trend forward retailers and offer a fresh/modern look to classic themes such as photography and abstract prints. Typically the...
read more